04 Feb 2019
Tado° multizone Thermostatic Radiator Valves
Everybody knows that it's inefficient to turn on the heating for the entire house when you only need to heat up one room. However, few people know what to do about it. Tado° provide a perfect solution for unnecessarily heating the entire house and offer the possibility to regulate the temperature in each room individually.
The temperature of the environment that you are in plays an important role in how you feel and function. Therefore, it is important that the temperature of the room matches what you want to do in there. For example, it is hard to concentrate if it is too hot, but if it is too cold you may start to feel uncomfortable. Studies find that you sleep best when it is between 15 and 18 degrees, however, a living room is much more comfortable between 20 and 22 degrees. The task of managing all of this seems daunting, but with tado° smart thermostat and smart radiator valves, it is super simple.
Air quality plays an important role
In addition to temperature, air quality also plays an important role in how you feel; with the degree of oxygen and carbon dioxide (CO2) in the air having a direct influence. Therefore, it is important to keep an eye on what the oxygen & CO2 values are in your home so that you can take action if required. An example of this would be to ventilate the house better to allow more clean air into your home. This air is richer in oxygen and therefore better for your health than the air in the house; this air is full of fine dust, smoke, and CO2. Another advantage of cold air is that it is drier, making it faster to heat than moist air. Ventilating in the winter means a healthier indoor climate and a warm house faster.
Heat and cool specific areas
Smart thermostats, radiator valves, and other smart home products from tado° help you to keep the temperature and humidity in every room in order, allowing you to have the optimal indoor climate. With products from tado°, you can heat and cool specific rooms individually or as a whole. This can be done by dividing the house into zones. For example, the living room can be one zone, whilst the kitchen, bedroom and dining room are all their own zones. tado° have tailored their range so there are solutions available for people with and without floor heating.
Temperature per room
People who have radiators but no underfloor heating can replace the existing thermostatic radiator valves in their specific zones with smart radiator valves from tado°. These radiator valves measure the temperature and the humidity in a room, have the ability to open or close the flow and can communicate wirelessly via a bridge. These smart radiator valves can be managed individually with your smartphone allowing you to set the temperature per zone. This also means that you can raise the temperature in the bathroom from your bed or program the shower to be a certain temperature when you get up in the morning.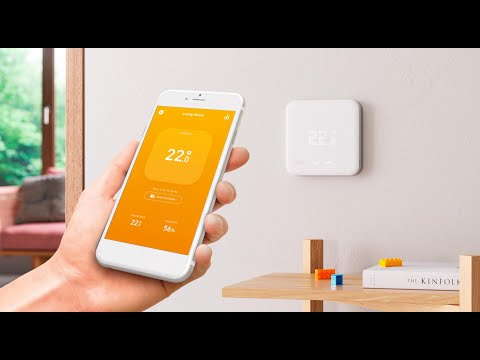 More possibilities with a smart thermostat
tado° are constantly upgrading their products to stay at the top of the smart thermostat market. Their latest release is the tado° Smart Thermostat V3+. This product offers a new 'Aircomfort Skill', providing users with tailored insights and advice for healthier air in their home. This can improve sleep quality, productivity and ensure greater comfort in every room. You can also operate this thermostat with your voice using Google Assistant, for example.
We have talked about many benefits of multiple zone heating with tado° so we have compiled them in an easy to read list here:
The individual radiator valves ensure the correct temperature in every room.

Using your boiler, the central heating is faster to heat up individual rooms to the right temperature

tado° learns about your lifestyle. The thermostat and radiator valves learn how quickly a room heats up and cools down. For example, one zone starts heating earlier than the other zone.

tado° learns about your house, with the thermostat and radiator valves learning how quickly a room heats up and cools down and applies this knowledge in future use.
Tado° takes an extra step when it comes to providing comfort in your home. Their smart heating solutions not only regulate the temperature, but also ensure that you can improve the air quality in your house. As a result of this, you feel comfortable in any room, at any time of the day. All of this is done as efficiently as possible, so you never have to feel guilty for turning it up an extra degree in the living room.
What exactly can you do with a smart thermostat app?