Tesla
Powerwall
The Tesla Powerwall is a revolutionary battery which stores solar energy to self-power your home. Green, clean energy generated from solar panels, continuously powers your home and stores excess energy for use any-time - also reducing your reliance on the power grid.
Please note: Due to supply chain shortages Tesla Powerwall is on a 6 month back order waiting list. Alternative energy storage solutions are currently available.
A revolutionary battery for your home
Are you looking for a more sustainable solution to power your home? The Tesla Powerwall is a solar charged battery, which stores energy to continuously power your home with sustainable energy - all day, and all night. Solar power is a clean, renewable energy source which produces more energy than your house can consume at one time.
Installing a Tesla Powerwall in your home, ensures the excess energy produced is never lost - but harnessed. Using the energy generated by your solar panels, the Tesla Powerwall sends the required energy to the relevant appliances, and stores the excess making it available on demand. You can also sell your unwanted energy, back to the power grid!
Connected to your wi-fi network is the Gateway 2 - an energy management and monitoring device, which provides control and monitoring capability through the Tesla mobile app. Seamlessly power your home in the event of a power outage through backup loads of power, and enable time-based control to release energy when you need it most.
Tesla is a leading manufacturer of sustainable, clean and integrated solutions for homes, world-wide. It goes without saying, the Tesla Powerwall is a solar-powered battery with on of the highest energy capacities on the market.
The Tesla Powerwall works to reduce your reliance on the power grid and fossil fuels, to create a sustainable, emission free home. Through the use of renewable technologies such as wind turbines and solar panels Powerwall can be charged sustainably.
An automated system, the Tesla Powerwall requires no maintenance, is compact and simple. Made with liquid thermal controls and touch safe technology to increase battery life and safety, Powerwall is one of the safest solar-powered batteries to use.
Tesla will only allow certified installers to install and commission the Powerwall. As certified installers for Tesla, 50five provide expert advice on how the Powerwall can be fitted in your home, and begin to maximise the power of solar energy.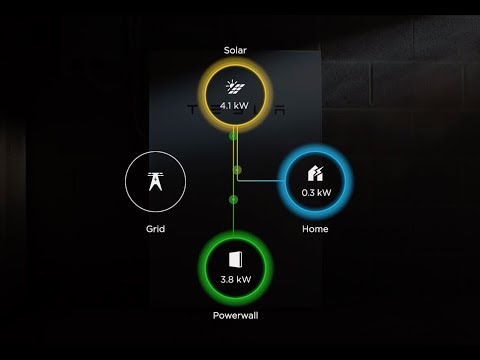 The benefits of Powerwall
Solar energy, day and night

Store excess power, ready for use on demand

Sell any unwanted electricity, back to the power grid

Backup your home, saving energy for potential power outages

Lower your energy bills and avoid 'peak time' energy usage rates

Plus so much more...
50five - a certified installer
We take care of everything, including system design, permitting and installation. Our customer care team are always on hand to support you, should you have any enquiries before or after installation.
As a leading smart home specialist in the UK, 50five want to promote the best in smart home solutions. Tesla are supported by us for their approach to clean energy technology, and their ability to integrate with solar power to reduce reliance on fossil fuels.