09 Jul 2020
An Exclusive Honda E Charging Guide
If you are a car fanatic that needs to embrace technology by using vehicles that come with the latest invention, that is, fully electric cars, then you may find it quite challenging on how to recharge it as you don't take it to the ordinary fuel stations. If that is your state and you have the new Honda electric car, then this guide is designed for you. Read on to find out how to charge the new Honda E.
Generally, Honda E is a premium, compact city vehicle that incorporates incredible features. The vehicle prides itself to come with the latest Urban EV concept, making it to remain close to the initial design. Regardless of the road conditions, the vehicle can travel for up to 136 miles, and the good thing is that it embraces the ultra-rapid charge capability.
How to Charge the New Honda Electric Car
The vehicle utilises the CCS (Combined Charging System) charging standard, that comes with both AC and DC inlet ports. The top part of the inlet is made for the type 2 connector, which you use while charging at home or even at slow and fast public AC points. The lower section, on the other hand, for the type 2 connector, carries high voltage from a CCS connector during a fast DC charging. Notably, the vehicle's CCS inlet is located at the car's front.
Based on the type of charge unit and network, the electric Honda vehicle can charge fast, rapid, and slow from all public charge points. In many occasions, the slow charging needs a three-pin-to-type 2 cable, while fast charging demands a type 2-to-type 2 cable. Luckily, the two cables are typically purchased alongside the car. During a rapid charging, the needed CCS connector is connected to the charging unit.
Charging on DC or AC needs the electric vehicle driver to plug the connectors to the right line. As a precaution, it is essential to confirm that there're no faults and that it's secure to begin charging.
Based on the power service provider, the process may need the use of a smartphone app linked to the account or an RFID (Radio-frequency identification) card. With the advancement of technology, contactless pay-as-you-go units have now become common throughout the country. After the activation, the units will undertake extra connection and account assessments prior to starting vehicle charging.
The Time Taken to Charge Honda E
Rapid 100kW – 0-80% takes roughly 20 minutes

Rapid 50kW – 0-80% takes approximately 35 minutes

Fast 22kW 0-100% takes approximately 3 hours

Fast 7kW 0-100% takes approximately 4.5 hours

Slow 3kW 0-100% takes approximately 11 hours
Note, the above data precisely shows the time it will take to charge a Honda electric car. The average times are for 100% charge except for the rapid charging, which is assessed at the usual 0-80%. The reason for this is that most rapid chargers reduce their power before reaching 100% to maximise the efficiency and protect the battery.
Remember, the indicated times are only a guide, as it's rare to charge an electric from 0%. Also, other aspects that might affect the charging time include in-vehicle energy loads, ambient temperatures, any lower and upper charge limitations to prolong the battery life and protect it against prospective damage, as well as charging rates declining as the optimal charge is reached.
Besides embracing a rapid 100kW DC capability, the new Honda electric car comes with a 6.6kW type 2 AC charging. Well, this means that the vehicle charges at only 6.6kW even when connected to a fast charger that's rated above 6.6kW. Luckily, you can estimate the charging times of your vehicle by using the Zap-Map's Home Charging Calculator. Best of it all, the connector speed, battery charge level, and onboard charger options can be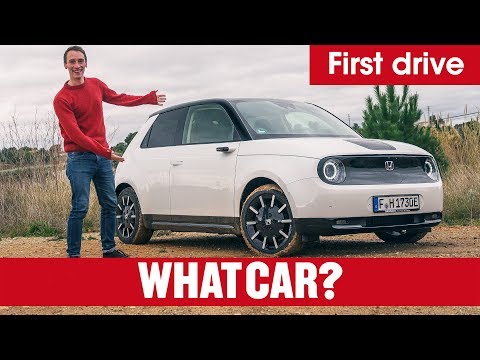 The Cost of Charging
For a full charge, you may have to pay around £3.64 while charging at home. On the other hand, charging at public charging points and stations, such as car parks or supermarkets are regularly free to use throughout your stay. Besides, for the rapid charging points found at motorway service stations usually costs roughly £6.50 for a thirty-minute charge.
Charging Honda Electric Car at Home
Charging an electric car at home is regularly the most cost-effective and convenient way to recharge an EV. Usually, there are government grants that help in the installation of home electrical vehicle charge points.
Generally, most home chargers in the market are either rated 3kW or 7kW. The higher 7kW units typically cost more than the 3kW units. The good thing is that most plug-in car manufacturers have partnered with charge point suppliers to give free charge point in some situations as part and parcel of the purchase of a new electric vehicle. Nonetheless, it is essential to note that Zap-Map advises car owners to precise shop in the market since there are many suitable items on the market.
How to Charge Electric Vehicles on Public Charge Points
Usually, the United Kingdom is home to a considerable number of public electric vehicle charging points. While charge points offer national coverage, the others are only available in select areas. It is essential to note that the payment and access methods across the many charging points vary. Remarkably, some public charging points offer an RFID card, while others require the users to use a smartphone to charge your vehicle. There may be those charging points that need you to create an account to use them, but then, many rapid units that embrace contactless PAYG (Pay as You Go) card readers have been brought to the market.
Now, while many electric vehicle charging points are available for free use, a vast number of rapid and fast chargers need payment. With this, the charging tariffs tend to come with a flat connection fee, cost per energy consumed which is denoted as pence per kWh, as well as cost per charging time which is indicated as pence per hour.