24 Dec 2020
Want to know about charging your Seat Mii Electric?
Think that an electric car is a lot of hassle? It isn't, and certainly not when you buy the Seat Mii Electric. The perfect small electric car for the city makes driving easy while you don't have to worry about charging the car because that is also a fairly simple process.
Choose a charging station with a capacity of 7.4 kW
If you charge your new Seat Mii Electric at a public charging station with a speed of 7.2 KW, , your battery will be charged eighty percent within four hours. If you find a fast charger of 40 kWh, then this will only take an hour. You can also charge the Seat Mii Electric via a 230V connection. For the charging point at your home – if you can install the charging point on your property – a charging point of 7.4 kW is sufficient. The maximum load capacity of the Seat is 7.1 kW and so a charging station of 7.4 kW fits in nicely with this. The above is applicable to a so-called 1-phase charging station.
Seat Mii Electric charging station on site
If you have your own land, you can simply install a charging station. Alternatively, you can request a charging station from your city council. If that request is honoured, a public charging station will be created in the area. This is a charging station that can be used by everyone. If you decide to buy a charging station, make sure you arrange a professional installation by reputable installers. This is simply a must if you want to drive your Seat Mii Electric worry free and want to be sure that the battery is recharged and ready every morning.
The electric Seat is available in two versions and with three optional packages
The new Seat Mii Electric has 83 horsepower and 212 Nm. It does 0-60 in 12.3 seconds and the top speed is somewhere around 80.7mph. With a normal driving style, you can drive a distance of around 160 miles with a battery of 36.9 kWh.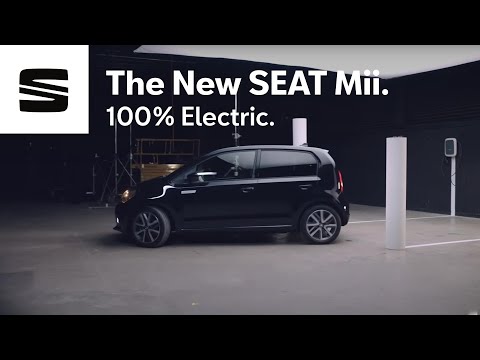 Get connected with the Seat Connect application
With the Seat Mii Electric, you connect using the mobile Seat Connect application. This allows you to remotely manage the car and turn on the air conditioning on very hot days so that you get into a nicely cooled car. Getting in and out of the Seat Mii Electric is also easy for both the young and old. That's why the UK market is looking forward to this car coming out early 2020.
LED lighting, a new dashboard and a new audio system
Of course, the Seat Mii Electric has LED lighting. The dashboard has undergone a metamorphosis and space has been created for a new audio system. There's also new roof options available, a light and rain sensor, a 14 inches on-board computer and you can purchase a Seat Mii Electric with fully automatic climate control.
Driving range up to 160 miles
The performance of the electric Seat is top-notch. Under normal driving conditions, the range of the Seat is up to 160 miles and the car comes with a standard warranty period of six years. Such a long warranty speaks volumes about the confidence that Seat has in its product.
The Seat Mii Electric is the Spanish brother of the Volkswagen e-UP and the Skoda Citigo IV. They are technically almost the same cars, it's up to you which one you choose.
The perfect small electric car for the city
The car is available in five colors and with lots of optional extras that can make your car even more of a comfortable drive. With the small Seat Mii you can easily zip between traffic in the big city and do it quietly. The lack of distraction from a loud engine can really help your concentration and therefore improve road safety.
Electric cars rule in the city
More and more smaller electric cars are flooding the market. Competition is fierce and that drives car manufacturing to unprecedented levels. With electric driving you do have to invest in a charging station, but you earn that money back in the short term. Electric driving is also much better for the environment. Seat will score big with the Mii Electric in the small city car segment. That much seems clear.
Need help with a charging station? Our specialists of 50five will take care of you.